First Art Module started
The first Art Module of the project Criticize this! started with a series of lectures and seminars which took place from September 29 to October 2 in Belgrade.
Public lectures given by Svetlana Slapšak, Nenad Veličković and Peter Klepec, who also participated in the final public discussion on the topic of "What kind of criticism do we need?" moderated by Saša Ilić.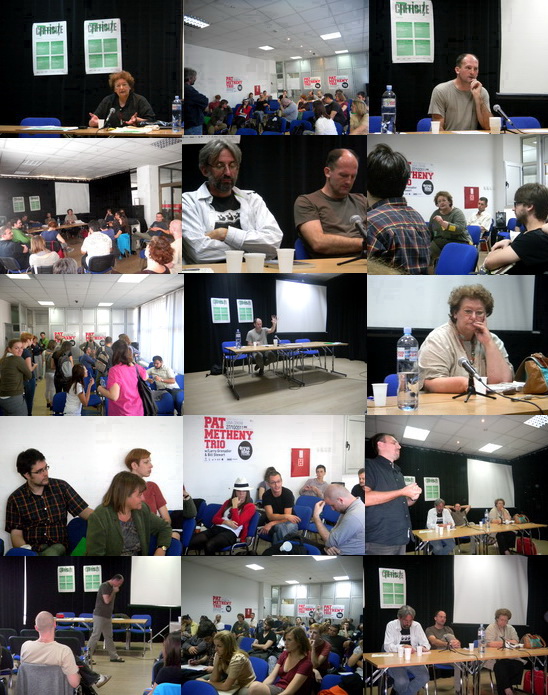 Svetlana Slapšak gave a lecture titled "What do truth and responsibility do in literature?" (On the situation of literary criticism, inscribed in responsibility and relation to the past), while Peter Klepec gave a lecture titled "It's time for alternative" (Crisis of politics and the position of culture). Nenad Veličković gave a lecture titled "Reading – the thin end of the wedge" (Abuse of literature in school).
The invited lecturers also held seminars which were attended by established critics in the field of literature, performing and visual arts together with 11 young art critics selected to participate in the Art Module.
Mentors for literature are Saša Ćirić and Boris Postnikov, for performing arts Ivan Medenica and Igor Ružić, and for visual arts Miha Colner and Darka Radosavljević Vasiljević.
Young art critics, participants of the first Art Module, in the field of literature are: Nikola Đoković (Kragujevac), Lamija Neimarlija (Sarajevo), Leda Sutlović (Zagreb) and Ivan Telebar (Varaždin), in the field of visual arts: Ana Bogdanović (Beograd), Anita Kojundžić (Split) and Tihana Bertek (Zagreb), and in the field of performing arts: Ivana Anić (Zagreb), Vanja Nikolić (Novi Sad), Nikola Skočajić (Beograd) and Sandro Siljan (Pula).
Following the public events of the first Art Module, held in the Cultural Centre Dom omladine Belgrade and in the Cultural Centre Rex, young arts critics will intensively work with mentors, which will result in 88 art reviews in all three artistic fields and in 11 essays. The art reviews will be published on partners' web portals (Booksa.hr, Elektrobeton.net, Kulturpunkt.hr, Plima.org, SEEcult.org) and the European portal Eurozine, and they will be published as a supplement in daily newspapers "Danas" and "Pobjeda" and in weekly newspaper "Novosti".